Headhunting "shaman"
4.1 / 5 (įvertino 8)
About the position
Are you different? Do You like to be a leader and pursue maximum goals? Do You think You are not reaching your potential in the current team? Are You one of those who doesn't count hours, not afraid to call potential candidates and "hunt" them? Do You like to expand your horizons, knowledge and want to understand different sectors, positions and their responsibilities as widely as possible? Then this offer is likely for You.
Job description
- Initial "screening" of candidates.
- Communication with specialists of various levels, professionals, managers, conducting work conversations with them via chat, telephone, meetings;
- Filling in the data to the sampling management system (we have it and fill it in, it makes the job easier :));
- Obtaining the contacts of the required candidates in various ways;
- Other work related to selection and headhunting.
Requirements
- Willingness to learn and improve new competencies;
- Awareness that joining the market may require professionals to broaden their horizons and retrain a significant amount of information;
- The desire to make money and earn it as much as possible on the basis of results (in quantitative and qualitative terms) rather than coming to work;
- Advantage of knowledge of English and Russian;
- Experience in staff selection - a very big advantage;
- Any other business experience and understanding of how the different sectors work is a big advantage.
Required languages
English
Writing: Advanced
Speaking: Advanced
Understanding: Advanced
Russian
Writing: Advanced
Speaking: Advanced
Understanding: Advanced
Lithuanian
Writing: Advanced
Speaking: Advanced
Understanding: Advanced
Offering
- Opportunity to grow and improve together with one of the best head hunting, HR services, training and consulting professionals in the Lithuanian market;
- The opportunity to learn from those who have considerable experience in the market and contribute to growth by implementing colleagues and their own ideas;
- The opportunity to be your own "earners forge";
- Work in the heart of Vilnius - Vokieciu street.
Daugiau apie mus
Company voodoo.lt (fortune it), JSC
750
Salary
750 - 2500 Eur
After taxes, net
Performance based bonuses
Area of ​​work Personnel Management, Training, Consultations
Location Vilniaus str. 35
Work hours
Mon:
08:00 - 17:00
Thu:
08:00 - 17:00
Wed:
08:00 - 17:00
Th:
08:00 - 17:00
Fri:
08:00 - 17:00
2020-09-28 17:12:31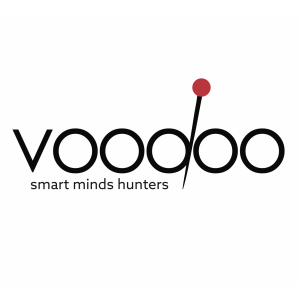 VOODOO is a business consulting agency with four complementary areas of activity:
- Search, selection, headhunting of board members, managers of all levels, IT (programmers, etc.), sales, marketing, finance, production and other professionals;
- Sales, negotiation, customer service, leadership, management training (VoodooSales.lt);
- Business consulting, audit of sales departments, reorganisation of departments, strategic sessions, preparation of strategies and assistance in implementation (VoodooSales.lt);
- LoveJob.lt job search platform, where employees and employers can find each other based not only on standard criteria, but also on values.
VOODOO talent agency operates in the Lithuanian market. The agency has become one of the most famous agencies in Lithuania in a few years. The Agency's services are used by well-known Lithuanian and foreign capital companies that need high-quality and reliable solutions.
---
Your recently viewed job ads